Your 7-step journey
How we create your website
Below is a simplified outline of your website journey with us. Please don't hesitate to contact us if you have any questions at all. We otherwise look forward to working with you to create your website!
Click to explore your project journey
1/7
Project Leader Appointed
One of our project leaders will contact you to guide you on the journey.
Feedback & Approvals
At certain points your project leader will ask you to respond to us with approvals, feedback or content. To avoid delays, please get back to us promptly. For example, if you take five days to respond to us then it will add more time to the total project length.
Turnaround Times
Your project leader will keep you updated with respect to timeframes. These may fluctuate depending on how complex your website is, the promptness of feedback as well as a range of other factors. In the meantime, you can access a visual representation of an average project timeline here:
Let's get your website project off to a good start with a clear vision and winning strategy.
Project Brief
We confirm the project brief with you to ensure nothing has changed since you first contacted us. This is an important step that helps us understand what your website needs to achieve for you and how you might like it to look and function.
Sitemap
We start the process of creating your website sitemap. This a document that sets out the pages that are to be included in your website and the page hierarchy.
Messaging
We identify what content is required for your website. If we are assisting with a marketing strategy, we work with you to get your message right.
Our designers get to work creating layouts that leave the right first impression.
Home Page Design
We prepare your website's home page design for your approval. This is the most important page on your website and sets the overall look and feel.
Additional Page Designs
If your project scope includes the creation of any additional page designs, these are also completed and provided to you for approval. Any remaining website pages will be created in line with the style set by the home page design—this occurs when we code your website, so you'll see these pages later.
Once designs are approved, it's time to start coding—this is how your website becomes interactive.
Website Development
Our developers code your approved designs and any other required pages so you have a fully functional website.
We don't use templates or themes made by other people. Instead, we custom build your website with best-practice code for better performance. By doing this, we also have more control over how your website looks and functions.
Collate Remaining Content
As the coding stage of projects generally takes the longest, this is often a good time for you to collate any remaining content that will be needed to populate your website once it's been coded. If you need help with this, we have a variety of content services to make it easy.
5/7
Testing & Content Entry
Almost there! Now is the time to explore and finesse your website before launch.
Review & Test
You are now able to review your website on a safe 'testing' link we provide you. This is where you ensure you are happy with your website.
Content Entry
We add agreed and supplied content to your website, in accordance with your project scope.
Site Finalisation
Your project with us has a set amount of hours we can use to make final tweaks before launch. These are typically smaller updates and refinements, rather than significant changes to looks and functionality.
It's time for launch!
Go Live
Once you provide approval to launch your website we consider your project complete. Any edits, corrections or updates following that will be scheduled into our existing workload and incur new charges.
Training
As part of the launch process, we offer a complimentary training session to show you how to make updates to your website such as adding or removing pages and editing content.
Enjoy the confidence that comes with having an annual maintenance package.
Annual Maintenance
We maintain your website and renew appropriate licences throughout the year.
Additional Help
If you need assistance with your website you're welcome to contact our support team. Depending on what you need, this could be covered under your annual maintenance package. If not, we quote a fixed price upfront to give you peace of mind.
Frequently asked questions
Need to know more?
How long do website projects take from start to finish?
Over time, we've found that website projects tend to take us between 8-12 weeks to complete. This is dependent on a range of factors however. More complex website can take longer, and delays in approvals, feedback and the provision of required content can also have an impact on timeframes.
Your project leader will discuss timeframes with you and keep you up to date regarding these. In the meantime, you can access a visual representation of an average project timeline here:
I need to launch my website urgently—can you do this?
Regardless of whether or not you've specified a hard deadline upfront, our project leader appointed to you will double-check whether there is a date you need to launch your website by.
If there is a deadline, it's important we're made aware of it as soon as possible. We can usually adjust our workflow to accommodate urgency, but this is not always guaranteed.
Meeting tight project timeframes depends on a range of factors, such as but not limited to timeliness of approvals and feedback as well as the provision of required content.
What stage of website projects takes the longest?
Coding takes the longest.
Part of the reason for this is there is usually a lead-in time of a few weeks before coding can commence. In general, we do not add projects to the coding schedule until designs are approved.
If you have a hard deadline you need to meet however, please let us know as soon as possible as we may be able to adjust our workflow to accommodate this (but we'll still need designs approved in order to commence coding your website).
Can you help with writing content for my website?
If you're having trouble with preparing content or simply don't have the time, we can help with our varied content creation services.
In our experience, the most common reason for a project being delayed is content not being ready even though the website has been built and is waiting for it in order to launch.
We can ensure your content is engaging for your audience and completed on time.
What do you use to build websites?
All our websites are custom built using WordPress.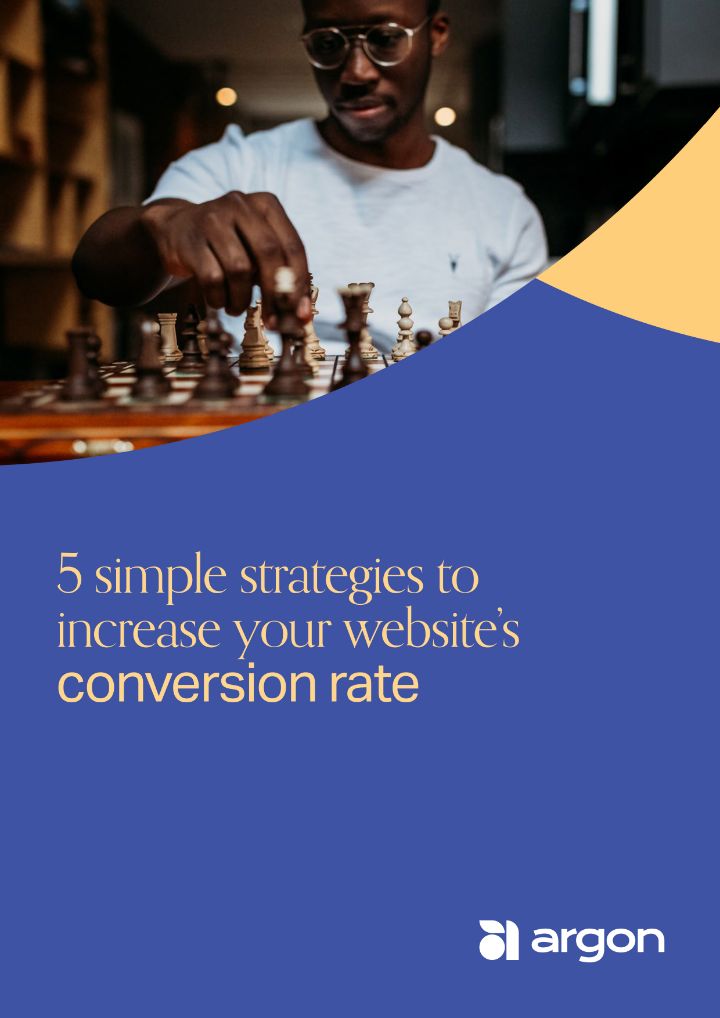 Download or free guide
5 simple strategies to increase your website's conversion rate
Growing your brand is hard. We make it easy.
Based in Adelaide, South Australia, we service clients globally and deliver websites and creative experiences that make it easy.